Welcome to Sugar Plum Sweetery's Toy Show Treat Boxes
Welcome to the enchanting world of Sugar Plum Sweetery's Toy Show Treat Boxes, where festive cheer meets delectable delights! As the holiday season unfolds, the anticipation for joyous gatherings and heartwarming gifts grows. This year, Sugar Plum Sweetery has curated a magical collection of treats, each designed to add a sprinkle of Christmas wonder to your celebrations. From classic chocolates to playful jellies, each item in this collection promises to be a delightful surprise for your taste buds and a feast for your eyes. Join us as we unwrap the festive magic hidden in each of these meticulously crafted treat boxes.
Toy Show Box (Classic)
Step into a world of nostalgic Christmas charm with the Toy Show Box (Classic). Priced at an affordable €29.95, this box is a celebration of traditional festive flavors. Inside, you'll find a carefully selected assortment of rich, velvety chocolates, each piece crafted to perfection. Alongside these are a variety of sweets, ranging from sugary jellies to creamy fudges, all embodying the essence of holiday cheer. This box is not just a collection of treats; it's a gateway to cherished Christmas memories, perfect for family gatherings or as a thoughtful gift to a loved one.
What sets the Toy Show Box (Classic) apart is its commitment to tradition. Each component is selected to evoke the warm, comforting feelings of Christmases past. The packaging, adorned with festive motifs, adds to the overall experience, making it a joy to both give and receive.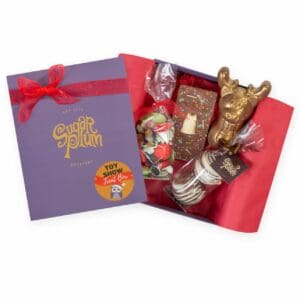 Toy Show Box (Deluxe)
Elevate your holiday indulgence with the Toy Show Box (Deluxe), available for €39.95. This box is a step above the classic, offering a more luxurious and varied selection of confections. Imagine biting into an exquisite piece of artisanal chocolate, where every flavor note tells a story of craftsmanship and quality. The sweets in this deluxe version are a melange of textures and tastes, each piece a delightful discovery. It's an ideal choice for those who savor the finer things in life and wish to experience the holidays with an extra touch of elegance.
The deluxe version stands out with its premium selection and variety. It's designed for the connoisseur, someone who appreciates the subtleties and nuances of high-quality confectionery. The box itself is a testament to luxury, with sophisticated design elements that make it a distinguished gift.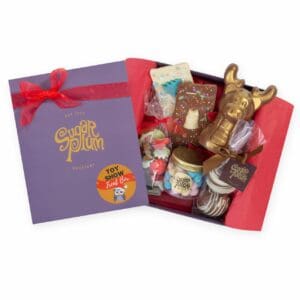 The Sweet Journey of Sugar Plum Sweetery
Sugar Plum Sweetery is more than just a confectionery shop; it's a dream turned reality, born in 2022 from the visionary minds of Denise and David. The idea was simple yet profound – to create sweet moments in everyday life. As the newest addition to their culinary ventures, following the success of Wholesome Kitchen in Mullingar established in 2019, Sugar Plum Sweetery represents a journey of passion, creativity, and indulgence.
Their quest for perfection took them across the globe, from the smooth, creamy chocolates of Switzerland, which inspired Sugar Plum's secret chocolate recipe, to Italy, known for its high-quality nuts, and Cologne, a hub for the world's finest sweets and confectionaries. This global inspiration is evident in every product at Sugar Plum Sweetery, where quality and taste stand paramount.
Each candy and chocolate piece is unique, crafted with love, and represents a fusion of international flavors and local craftsmanship. This is not just a store; it's a destination for those who seek the extraordinary in their indulgences, where every sweet is a masterpiece in its own right.
Christmas Bash Cake
The Christmas Bash Cake, priced at €39.95, is a festive masterpiece. This cake is a canvas of creativity, blending the traditional with the contemporary. Its exterior is a testament to the holiday spirit, while the inside is a burst of festive pick & mix jellies, each bite a celebration of flavor and joy. It's not just a cake; it's a symbol of Sugar Plum Sweetery's commitment to creating memorable moments.
What makes this cake stand out is its perfect balance of visual appeal and exquisite taste. It's a testament to the culinary journey of Denise and David, showcasing their passion for blending global inspirations with local artisanship. It's an ideal centerpiece for any holiday gathering, promising to be as much a topic of conversation as a treat for the taste buds.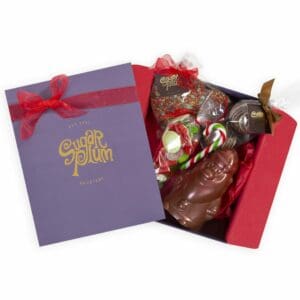 Reindeer Gift Bag
For just €9.95, the Reindeer Gift Bag is a delightful embodiment of holiday whimsy. This charming gift features a chocolate reindeer, meticulously crafted and filled with a selection of festive jellies. It's a playful and heartwarming treat that captures the essence of Christmas wonder, making it an ideal gift for children and adults alike.
The Reindeer Gift Bag stands out for its adorable design and the surprise element of the jellies inside. It's a testament to Sugar Plum Sweetery's dedication to creating treats that are not just delicious but also visually enchanting, bringing a touch of magic to the holiday season.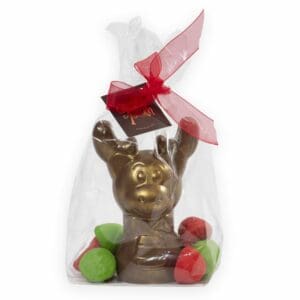 North Pole Milk Bar
Priced at a mere €4.95, the North Pole Milk Bar is a delightful treat that embodies the joy of Christmas in every bite. This milk chocolate bar, sprinkled with festive colors, is a perfect blend of creamy texture and sweet taste. It's an ideal treat for those cozy winter nights or as a delightful addition to a Christmas stocking.
This chocolate bar is not just a sweet treat; it's a piece of the holiday spirit. Crafted with the finest ingredients, it reflects Sugar Plum Sweetery's commitment to quality and our ability to turn simple ingredients into something extraordinary.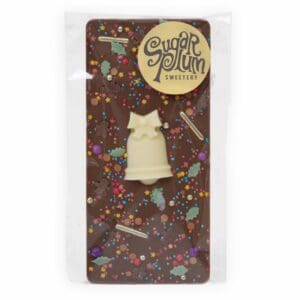 Santa Deluxe Gift Box
The Santa Deluxe Gift Box, available for €39.95, is the pinnacle of festive luxury. This box is a collection of the finest chocolates and sweets, each item carefully chosen to represent the best of holiday flavors. It's a gift that speaks volumes, perfect for those who appreciate the finer details in life.
This gift box is a showcase of Sugar Plum Sweetery's global culinary inspirations and their passion for creating exceptional treats. The box itself is an elegant piece, reflecting the sophistication and quality of the contents within, making it a memorable and impressive gift.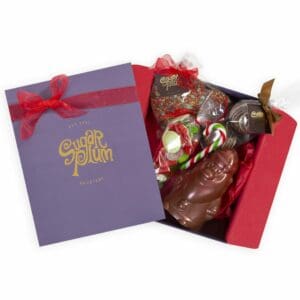 Christmas Sweet Box
The Christmas Sweet Box, priced at €31.95, is a festive cornucopia of Sugar Plum Sweetery's bestselling pick n mix sweets. Each piece in this box is a celebration of the holiday season, offering a variety of flavors and textures. It's a delightful mix that promises to bring joy to anyone who opens it, perfect for sharing with family and friends during the festive gatherings.
This box is a reflection of Sugar Plum Sweetery's journey around the world, bringing together the finest sweets and jellies. The selection is not just about taste; it's about creating an experience that is both diverse and delightful, embodying the essence of a global Christmas celebration.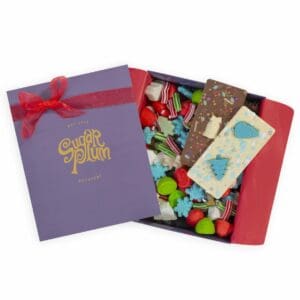 As we come to the end of our sweet journey through the enchanting world of Sugar Plum Sweetery's Toy Show Boxes, it's clear that each product is more than just a treat; it's a reflection of a dream that Denise and David brought to life. Their passion for creating moments of joy through exquisite sweets and chocolates is evident in every bite. From the globetrotting inspirations behind their secret chocolate recipe to the careful selection of the finest ingredients, each product is a testament to their commitment to quality, creativity, and the art of confectionery.
Sugar Plum Sweetery isn't just a store; it's a destination where every sweet tooth's dream comes to life. Whether it's the playful Reindeer Gift Bag, the luxurious Santa Deluxe Gift Box, or the festive Christmas Bash Cake, each item carries with it a piece of the world, a touch of artistry, and a lot of love. This holiday season, let these treats not just sweeten your palate but also warm your heart. After all, every candy, every chocolate, and every box from Sugar Plum Sweetery is a sweet memory waiting to be cherished.